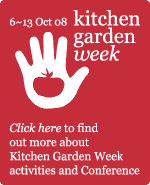 I mentioned that we modeled
our kitchen garden
on the program designed by the Stephanie Alexander Kitchen Garden Foundation. Well this week, 6-13 October is Kitchen Garden Week!
The brochure has a great quote on what the Kitchen Gardens are all about:
A Kichen Garden is created to provide edible, aromatic and beautiful resources for a kitchen. The creation and care of a Kitchen Garden teaches children about the natural world, about its beauty and how to care for it, how best to use the resources we have, and an appreciation for how easy it is to bring joy and wellbeing into one's life through growing, harvesting, preparing and sharing fresh, seasonal produce.
...Not quite Miss Mason's words, but the sentiments, surely, would be shared by her, I think.
We have some exciting things in store for our Kitchen Garden this week. We'll let you know how they go!