Part one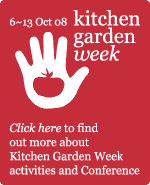 I told you we had some exciting activities planned for kitchen garden week, didn't I?
On Thursday, our family drove to the nearby town of Donald to see the real official
Stephanie Alexander Kitchen Garden
at
Donald Primary School
.
Twenty-seven Victorian primary schools are currently delivering the Stephanie Alexander Kitchen Garden Program to their students. Twenty-four of these schools are the recipients of part-funding from the Victorian Government through the 'Go for your life' health strategy. One of those is Donald.
Imagine - there are only 27 in the state and there is one half-an-hour away from us!
We were really excited to see the programme in action - and to examine where we could do better in our homeschool version.
The amount of space the school had for their garden obviously allows for a larger number of plant varieties than we can fit in - but then again, there are 150 kids...their kitchen is bigger...but ours is better equipped...they have a bigger library - ours has less twaddle...their garden is home to Darcy, the scarecrow, ours is not (to Jemimah's chagrin).
I think that physically our garden measures up pretty well - except for Darcy and we can do something about that, I'm sure!
It was great hearing all of the positive stories. All of the kids are willing to taste the produce. Some dishes have been absolute hits! One yound child even admitted that the vegetable-based dish he was trying was, "Better than Macca's!" High praise indeed.
The programme has cross curricular benefits too - maths to work out the recipes, English to write them up, science skills and more have been used in these classes. The kids have learned how to hold a knife and fork; how to set a table and importantly, how to share. It is sad that these skills are not being taught in the students' homes, but they are really important skills to know, and the programme has helped with things that parents have forgotten.
We were really inspired by our visit to Donald - not only with what the official version of the programme is achieving in their school, but also what our unofficial version is doing in ours.